SAVE 50% - WHOLESALE PRICING DIRECT from the MANUFACTURER

Why pay RETAIL for the mediocre, when you can have the best for less!
Legendary SLIDER Optical Manifolds

If you're Thinking about an Optical Manifold, Think Sliders for the Following Reasons:
Sliders unique design always has LESS PROFILE than any [same format] flip-mirror type device.

All Sliders have a FREE zero profile, built-in 2" filter slot and easy X-Y adjustable slide-mirror for "DEAD-ON" collimation.

Sliders have rock-solid, 1/4" thick-wall, one-piece aluminum housings. All others use flexure ridden sheet metal or plastic fabrication.

The Slider 2 has X-Y axis pick-off mirror control for the easiest guide star acquisition on planet earth, guaranteed!

Center [or place] any guide-star in your pick-off mirror's field of view in a split second.

Sliders are light-years ahead of anything else on the market. Need proof? See "Comments" link.

You have a CCD camera with a built-in guiding chip, or a chip area dedicated to guiding, so why do you still need a Slider 2? Read on.

Best of all, Sliders are [only] sold directly from the manufacturer to you, the customer, so prices are always WHOLESALE.

Still not convinced? Then go buy the other flip-mirror/off-axis devices and learn this expensive lesson the hard way.

NEW SLIDER Optical Manifold Features
NEW STAINLESS STEEL (military spec - aircraft grade) hardware throughout

NEW SUPER durable pure "Glass Bead" (cold-worked & surface-hardened) body finish

NEW lighter Slider body utilizing aesthetic metal removal machining techniques

NEW Nitrile seals that totally eliminate all internal stray light

NEW double-cut DIAMOND knurled ports

NEW rounded bull-nose corners - the box is gone! Long live the box!

This is Van Slyke Instrument's revolutionary 2" format optical manifold, the Slider. Yes, I said revolutionary, because to obtain the shortest possible profile, the diagonal mirror slides to the side instead of flipping down. All Sliders have two super features that will re-invent precision collimation and easy guide star acquisition: 1) A collimatable top slide-mirror port for "dead-on" optical alignment; 2) Full 360 degree radius pick-off mirror control for easy and quick guide star acquisition and positioning. Sliders have the same, or less, profile than a standard 2" diagonal, 2.5" body length, while still maintaining a full 2" [format] straight-through and diagonal aperture.
You have, or are considering the purchase of, a CCD camera with a built-in guiding chip, or a CCD camera that has an imaging chip with an area that can be dedicated to guiding, so you don't need an optical manifold. Think again! You think it's easy to find a suitable guide star with a fixed separate guide chip, or a fixed chip area dedicated to guiding? You don't like guide star frustration, but you may think that you have no choice? You do. Since your guide chip [area] is integral and fixed, your ability to scan for an adequate guide star is near non-existent, compared to the Slider's easily adjustable [independent] X-Y axis pick-off mirror control. Even with your fancy dual [fixed] chip guiding/imaging CCD camera, guide star acquisition can still be a literal nightmare if you don't have a way of positioning a guide star independent of your imaging target.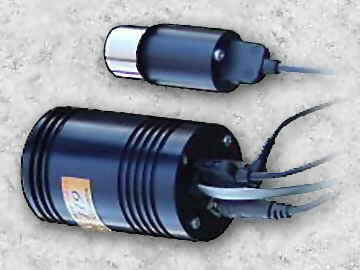 These are the user-friendly capabilities the Slider 2 offers. Of course, you need to use a separate guiding CCD camera, or guiding eyepiece, that allows you to simply scan your telescope's entire available field of view, not just a fixed microscopic section of that field. You accomplish this by using the Slider 2's convenient knob and lever, X-Y axis controls. Once you've acquired a usable guide star, you can center it in the Slider's off-axis field of view, or simply tell your CCD guiding camera to guide on that specific star. That's it, you're ready for guided imaging. You think I'm kidding? Try it. The Slider will make even the most die-hard astro-skeptic a believer. And, I guarantee you won't find anything else on the market that even comes close to the capabilities of the Slider 2 in form, function or features. Better yet, you could purchase the Starlight Express SXV-H9C (pictured at right) with the separate guiding camera that slips right into the Slider 2's [1.25" format] off-axis guiding port - a marriage literally made for heavenly imaging!
If you intend on using focal reducers, the Sliders easily accommodate the Celestron or Meade f/6.3 focal reducers that screw directly onto the front [input] port of the Slider and need no special extension drawtubes (except for 35mm camera work). This is because the Slider's rear imaging, top slide-mirror, and side pick-off mirror ports are all parfocus, and being focal reduced through the Slider itself means all the ports will still be parfocus. Faster focal reducers work fine with Sliders, but need to be attached directly to the camera because of their shortened light cone (this is also applicable with any flip-mirror type device too). In other words, between the Slider's rear port and the input of your camera. This faster focal reducer, rear port mounting method can also play havoc with your parfocusing (see "The Art of Astroimaging" for more info).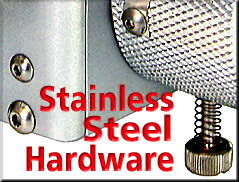 Slider assemblies are machined to high industry standards from a (6061 T6 extruded aircraft aluminum) 1/4"-wall square tube, and their 1/2" thick aluminum slide plates are ball bearing spring loaded to maintain a repeatable optical alignment indefinitely. And all Sliders [now] have double-cut diamond knurling on the input port slip ring, and NEW stainless steel (non-corrosive) hardware throughout (pictured at right). By inserting various drawtubes and adapters, you can convert from CCD imaging to 35mm imaging and push/pull re-parfocus your setup in just minutes, instead of hours (or not at all) like the awkward "other products" out there. VSI Collar Rings, at the bottom of the ADAPTERS link page, will help save set-up time, too.
From over a decade of imaging experience at Black Forest Observatory, we've found that push/pull secondary/tertiary focusing (top and side ports) is much quicker and more efficient than any redundant helical [or other] focusing systems.
NOTE: VSI offers the best selection of imaging accessory adapters and couplings in the industry. Sliders are designed to use a myriad of accessories so they can perform their base function with the greatest versatility. You may have some of the more common accessories already, but many accessories are exclusive to VSI and are necessary for the operation of your Slider (see ADAPTERS link).

Two VSI Super Features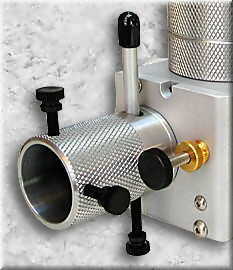 Full 360 Degree Radius Pick-Off Mirror Control (above left). All VP Slider 2's now have X-Y axis adjustable pick-off mirror controls (see above left picture, vertical lever and black knob). The new vertical lever [above] controls the Y-axis rotation of the pick-off mirror, and the black knob controls the X-axis angle of the pick-off mirror [as with earlier model Slider 2s]. Full 360 degree radius positioning of your guide star, by simply turning a knob and moving a lever - light-years beyond any other optical manifold device on the market. I'm really excited about this super feature because it provides true X-Y positioning of your guide star, an optical manifold capability only dreamed of before now. You can even gain a quasi-Z-axis by rotating your Slider to find a suitable guide star in your telescope's field of view, then [using the X-Y controls] easily dead-center it in your guiding eyepiece or guiding CCD camera's field-of-view. What a luxury! - PBVS
Collimatable Top Slide-Mirror Port (above right). All VP Sliders now have an exclusive, super easy, collimatable top slide-mirror port for "dead-on" optical alignment (see further below for illustrations and details). Loosen the tensioning set screw (behind the port, not shown) and turn the X-axis set screw (small black hole above rear imaging port, above right picture) or the Y-axis set screw (U-shaped indent above left side plate, above right picture) to adjust your top port's collimation a full 360 degrees. It's easy and fast, too.
---
2" Threaded Input Coupling (below, left side) for either Slider 1 or 2. This 2"-24tpi threaded coupling [slip ring] allows you to screw your Slider directly onto the rear visual back of all Celestron/Meade Schmidt-Cassegrain scopes, eliminating any wasted profile. Or you can convert to 2" barrel nose, for use in 2" format slip-fit focusers, by just screwing on one of our 2" Threaded Barrel Adapters (item #A2LT) - the best of both worlds!
End Mounted Push/Pull Rod (not shown) for smoother, non-stick operation. This balanced push/pull system provides a "feather-touch" slide action for the Slider's mirror carriage with no possibility of sticking.
Built-in [zero profile] 2" Filter Slot (below, right side) located just before the rear imaging port on all Slider models. VSI's famous built-in 2" filter slot has been improved many times, to include a "snappy" spring plate to hold your 2" filter securely in it's cradle, a spring-loaded ejection knob (bottom) to eject your filter into your hand with a single [one-handed] motion, and a FREE light blocking insert ring (not shown) to block stray light from entering when you're not using your filter slot.

Collimation Super Feature
All Slider optical manifolds have an exclusive, super easy, collimatable top slide-mirror port for "dead-on" optical alignment. For most astroimaging tasks, critical collimation of the top port, with the rear imaging port, is unnecessary because you are usually using a low power, wide-field eyepiece. Of course, high-power operation would only be necessary if you are going to image finite objects (i.e. planets, lunar, solar, double stars, spy stuff, your neighbor's window, etc.).
I thought that most telescope's optical paths were fairly well aligned, but not anymore, for the following reason. I use a 6" Quantum Maksutov when I need to test a product. A customer and I tested a Slider's top port alignment between our two scopes (he had a 10" Meade LX200). We found that when we used two identical high power illuminated reticle eyepieces (one in the top port and one in the rear port), the Quantum was aligned "dead-on," but when my customer tested the same Slider on his scope, there was a noticeable top port misalignment [object to the upper left] at high powers. This lead me to the preliminary conclusion that all optical manifold type devices must have X-Y axis alignment capabilities to correct for different scopes because no two scopes are optically the same, no matter the quality.
No matter how perfectly you align a Slider's mirror (at an exact 45 degree angle) there are really no two scopes that will put the target perfectly in the center of the optical path, so the "magic number" of 45 degrees is rendered academic at best. As with all flip-mirror type devices, the alignment of the mirror is obtained by adjusting a stop-screw at the top, or bottom, of the internal flip-mirror's 45 degree angle position. On some higher quality flip-mirror devices (like the now discontinued Flippers), lateral [or second axis adjustment] is obtained by adjusting the flip-mirror's rotatable shaft perpendicular to it's optical path, but it is usually a tedious task. With the Slider's collimatable top port, you just loosen a tensioning set screw and adjust a set screw for X-axis adjustment, and another set screw for Y-axis adjustment to achieve the easiest, guaranteed "dead-on" collimation on the market (see above illustration).
Another reason for adding the collimation feature is simply the fact that all flip-mirror devices on the market (including the old Flippers) have collimation capabilities. Sliders should have no less capabilities than these [similar operating] devices. Verily, Sliders should have superior features and capabilities beyond any other similar device on the market. This is why each new production run, of any VSI product, is always better than the previous run. Every production run has at least one new feature or simple upgrade, even if it's just improvements in the accuracy of the machining process. I don't believe that any product can't be improved upon. There really is nothing permanent in the world, except change. Tomorrow's reality is always born from today's imagination. Product "evolution," in any form, should be an endless creative process.
NOTE: No previous version [vintage] Sliders (serial #0192 and earlier) can be converted to the NEW collimatable top port. Earlier model Slider top ports are press-fitted (0.003" over) to an internal shoulder (on the square tube housing) that can't be removed without destroying the port, and possibly damaging the Slider housing itself. Even if I could convert your existing Slider to a collimatable top port, the time to complete the retrofit (at $100 per hour machine shop time), would cost more than the price of a new Slider. Any way you look at a Slider refit, it isn't worth the effort or the cost. - PBVS

Stub Sliders offer Shorter Profiles and Versatility
You can [now] custom order Sliders with different input and output ports. Why? Because conservation of profile is very important, and you can considerably shorten a Slider's profile (to around 2.5") by installing different ports (shown below). Above and below are Sliders with different input and output ports shown in different port configurations. All standard Sliders (below left) have a 2" SCT threaded slip ring on the input port, and VSI's proprietary 2" female port with a 2" format filter slot built-in to the output port. This config is what most of us want. But if you need a Slider with a little shorter profile or the shortest profile physically possible, then a Stub Slider is for you. Standard Sliders convert their 2" female rear port to many other thread configs by inserting a T-thread Adapter (item AZP2T), 2"-24tpi SCT Adapter (item A2ST), or any one of a myriad of other adapters into the Slider's existing 2" format rear port. The Stub Slider (middle below) is almost 1.5" shorter than our standard Slider because its output port has been directly replaced with a short-profile 42mm-0.75mm male T-thread. This output port replacement could also be a male 2"-24tpi SCT thread (not shown). Or you can even order your Slider with a 2" format barrel-nose input port (below right), instead of our standard 2" SCT threaded slip ring (below left & center), creating a Stub Slider that is over 2" shorter than a standard Slider. Also, if you need other port thread configs, just give me a call and we can discuss your needs personally. Custom port rings are factory installed at a charge of $100 per port ring, plus the cost of a standard Slider 1 or Slider 2.
Note that these ports can not be installed by the user. They must be factory installed when you order your NEW Slider. All Slider ports are permanently press-fitted and pinned, and can not be changed. At least not for a price that would be cost effective ($100 per hour machine shop time).

Full 1.75" Clear Aperture Throughout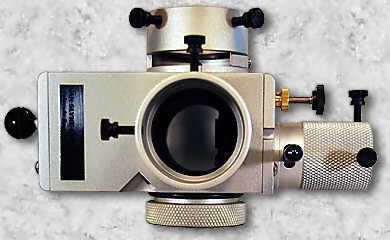 Most other 2"-24tpi threaded SCT accessory equipment on the market has a clear aperture of only about 1.4" (35mm) at best. All Sliders, and even our accessories, provide a full 1.75" (45mm) clear aperture throughout (straight-through and top slide mirror ports) from the same industry standard couplings. How do we do that? It's not magic, it's just tighter tolerance machining techniques. And, we care about our customer's enough to provide the very best in all aspects of design criteria. This substantial aperture increase is all you need to eliminate vignetting all the way up to 35mm format, and even with fast focal reducers in your imaging train. The only restricting factor may be your own telescope's limited [internal] clear aperture. Unfortunately, VSI can't help you with that problem.

Image the Space Station & Shuttle
That's what Ron Dantowitz did with his VSI Electro-Port and a Meade 12" SCT using C-Sat satellite tracking software to acquire this spectacular video image of the space shuttle docked to the Mir Space Station (above left) in 1995, and the International Space Station (above right) in 2002. Visit the C-Sat web site at www.skyshow.com to acquire this unique software that works with any Meade LX200 model through a PC to locate and track over 3500 Earth satellites.
Photo courtesy Museum of Science, Hayden Planetarium, Boston, MA.