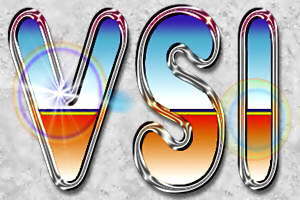 About Van Slyke Instruments
Van Slyke Instruments (VSI) is a vendor to NASA, JPL, Ames Research Center, Los Alamos National Labs, Raytheon Missile Systems, Lawrence Livermore National Labs at General Atomics, Northrop Grumman, MIT Lincoln Labs, Naval Warfare Department, and many other government contractors and agencies. Observatories, universities, and colleges around the world use our professional-grade products to further enhance their research efforts. However, our most important customer has always been, and always will be, the amateur astronomer. Without support from loyal amateur astronomers worldwide, VSI would not be able to continue supporting the "big boys" with our unique products and services. We evolved, from a simple beginning, into what we are today because of past support from countless individual amateur astronomers who wanted quality, research-grade products at a reasonable production price. VSI remains dedicated to all our special friends out there in Astroland.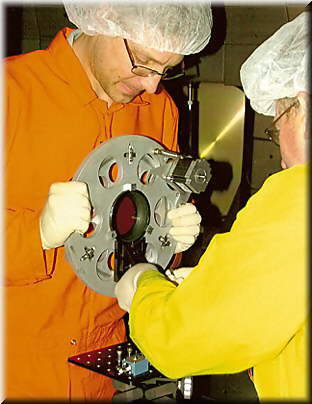 I would also like to thank Steve Allen, PhD (pictured left) at Lawrence Livermore National Labs for documenting his special use of a VSI product. Although I do know that our products are used for non-astronomical applications all the time, this is the first time that any of the above mentioned organizations have offered "after-the-fact" full documentation of their actual application of a VSI product. If you are interested in more pictures and info about this special application of a (now discontinued) VSI CYCLOID Rotator, click on the picture at left.
To continually thank you for all the decades of support, VSI has always offered our products at wholesale direct to you, our valued customer. This means that VSI products are only available from VSI, period! No dealers or representatives who would inflate our prices beyond the reach of the amateur astronomer. You may think VSI products are expensive, compared to others, but when you consider the unprecedented rock-solid, "quasi-tank" construction, functional simplicity, and exclusive features of VSI's products, our direct production pricing becomes an affordable asset for the advanced amateur astronomer with limited resources. In fact, many marketing and production engineers, over the years, have told me that my short-run "custom" products are priced way too low. They tell me I should [at least] triple my prices. Well, that ain't goin' to happen.
VSI looks at what's available on the market, and creates a product line that is far superior in every aspect. This is what I do! So when I say that our products are the best, they are! This is not ego. This is simply the truth. I build the best products by design, function, operation and application. All VSI products are constructed of stainless steel and aircraft-grade 6061-T6 aluminum. Unfortunately, everyone says their products are the best, and this can be very confusing, but their false marketing efforts are simply that, and little else. Most try to create the least expensive product possible, by using lesser designs and the cheapest materials available. This is not wrong. It is just the way it is, because they are appealing to the majority. VSI products are not for the majority, they are for the few who must have the best a specific market can deliver, like a truly hi-end luxury car - Audi, BMW, Cadillac, Mercedes, etc. There are many who claim they run with the hi-end crowd, like Lexus, but are seriously lacking to the uninformed. I am striving to save my fellow astronomers time, effort and money so they can go directly to the best, if that is truly what they want, bypassing lesser products. People have informed me of their judgement errors on numerous occasions. They tell me they could have saved countless hours of frustration and thousands of dollars by purchasing VSI products first (see COMMENTS link).
All VSI products have an unconditional 30-Day return policy and, if my products weren't constructed to last forever, I couldn't offer our lifetime materials and workmanship warranty, too. VSI's "after-the-sale" service and integrity is "second-to-none." Don't take my word for it, ask our customers or, better yet, visit VSI's COMMENTS link. VSI products are a solid investment in the future that will appreciate over time - like the valued Questars of yesteryear or a Warner & Swasey refractor from the turn of the last century.
Understand, VSI is a virtual 3-man operation, me, myself, and I (virtual is the keyword). "I" design and manufacture all the products. "Myself" processes, packs and ships all the orders. "Me" is the resident graphic artist/webmaster, too (can't you tell from this very retro, no-class, gaudy, "carnival act" antiquated web site?). That's right, VSI is actually a "one-man-band," so patience can be a virtue. Oh, there is actually one other real person involved in the business, my wife Angela, who takes care of the bookkeeping on the side, and works a full-time job too. Without her support, tolerance and understanding over the years, VSI wouldn't exist. Remember, I can only manufacture so many products a year, and when they're gone, they're gone until stock can be replenished.
And, don't forget that VSI's RETRO web site, with its unique "Old-School" look, is not just a bunch of microscopic pictures with a price tag, and little else. There's enough valuable astro-info, instruction, useful tips, user input, recommendations and super "koo-well" scope installations at this mega-linked site [alone] to write a book or two, so take the time to browse around. You'll find it worth your time and effort. - PBVS


VSI Policies
Guarantee
All VSI line products have a 30-day unconditional full money back guarantee (exceptions on custom built items do apply). Postage is not refundable. The return product must be in its original resalable condition with all documentation intact (see Returns below). Returns that are not intact and ready for resale will be charged accordingly and deducted from your refund. All VSI products have an additional non-transferable lifetime warranty on materials and workmanship (VSI's lifetime, not yours). Non-VSI manufactured parts are warranteed by the specific manufacturer only, not VSI (i.e. motors, gears, rubber products, ball bearings, micrometer heads, analog & digital readouts, etc.) Products will be repaired at no charge to the customer, if normal use is determined (by VSI only) to be the cause of the malfunction. If damage is due to other than normal use, or calibration seals are broken, repairs will be charged accordingly. Products that are custom designed and built are not returnable/refundable under any circumstances, but do have the above lifetime warranty on materials and workmanship. MSRP = MANUFACTURER'S SUGGESTED RETAIL PRICE - your price is in GREEN
---
Payment
VSI accepts Visa/MC/Discover only. No American Express, etc. You may also pay by personal check, but your order will not ship for two weeks until your check clears the bank. All checks must be made payable to VAN SLYKE INSTRUMENTS. Your card will not be charged until your order is ready for shipment.
All foreign orders can be prepaid by Visa/MC/Discover up to $1000. Over $1000 by International Money Order (IMO), Western Union, direct deposit to VSI's bank (bank info provided on official request), guaranteed instrument, cashier's check, registered check, bank check drawn on a US bank, etc.
Purchase orders (POs) are accepted from recognized government agencies, universities, and colleges in the US only. VSI only accepts prepaid purchase orders from overseas. For additional foreign order info see "Canadian and Foreign Orders are Welcome" below.
All custom orders must be prepaid by the above guaranteed payment methods (no Visa/MC/Discover) before work actually begins.
---
Returns
You MUST call or write for a return/repair merchandise authorization (RMA). Products that are (designated) custom built (not including production line products) are not refundable/returnable under any circumstances. Non-returnable custom items carry a full lifetime warranty. All packages returned without an RMA will be refused. At select times, products can be returned to VSI (i.e. optical manifold, Toad, Hexagonal, etc.) for a free refinish (glass-beading) and operational certification (with prior approval/RMA from VSI). You pay for the [fully insured] shipping to VSI, and VSI pays for the [fully insured] shipping back to you (US only). This offer is provisional depending on VSI's current order/product backlog.
---
Custom Orders
Since custom designed and built products are manufactured after the customer places the order, no custom order cancellations, after start of production and prior to shipment, will be accepted. Products that are designated custom built are not refundable/returnable under any circumstances. This custom order policy automatically includes all spiders and Tri-Cells. The customer is liable for the full purchase price of the custom-built product. Order cancellation will only be accepted between the placement of the custom order and the time production actually begins. There are no exceptions, and prepayment-in-full is required on all custom orders. No credit cards accepted. This cancellation policy does not apply to production line items such as Sliders, Sidewinders, Toads, Hexagonals, etc. Of course, all VSI products (production and/or custom) include VSI's Unconditional Lifetime Warranty.
---
US Shipping & Handling Charges
Charges for shipping your order include more than just carrier cost. It also includes packing time and packaging materials, documentation, order processing, and insurance. US orders are shipped via US Postal Service, Priority Air insured. For US shipping charges, see CONTACT link.
---
Canadian and Foreign Orders are Welcome
As a consideration to our Canadian and foreign customers, Visa/MC/Discover is accepted up to $1000 maximum. VSI will not accept credit card orders from some countries. Alternate payment method is by International Money Order (IMO), Western Union, direct deposit to VSI's bank (bank info provided on official request), guaranteed instrument, cashier's check, registered check, bank check drawn on a US bank, etc. For overseas shipping charges, see CONTACT link.
All orders shipped include full value insurance (if possible) to your destination. Default overseas shipping method is USPS Air Express (contracted via FedX). Any package value that is over the maximum insured value allowed by a specific country is the responsibility of the customer if lost or damaged, unless alternate [more expensive] shipping methods are requested.
---
Disclaimer
Pictures used in this web catalog are for illustration purposes only and may not be exact. All prices are subject to change without notice. VSI assumes no responsibility for any misinterpretations on the part of the customer, or any liability for damages or injuries incurred from the use or misuse of VSI products. This web catalog supersedes all previous catalogs and advertised prices.