SAVE 50% - WHOLESALE PRICING DIRECT from the MANUFACTURER

Why pay RETAIL for the mediocre, when you can have the best for less!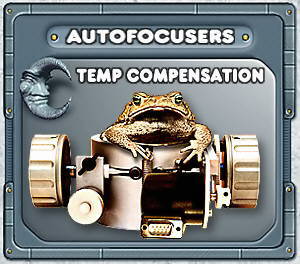 TOADS + Lunatic Astronomical Stepper Motors
When you purchase your VSI TOAD (ALF3/ALF5, OMG3/OMG5, TL3/TL5) or motorized ZEROTATOR (ZBR2) equipped with Lunatic Astronomical (LA) stepper motor (standard), you will also need one of the following Seletek ASCOM multiple peripheral controller (pictured below) and one of the software packages listed below. TI's Robo-Focus stepper motor is optional (contact VSI). These items must be purchased separately from these sources.
LA Seletek controllers (purchase separately from LA)..........from $300

TI Robo-Focus controller (purchase separately from TI)................$300

DL MaxIm DL/CCD Software (purchase separately from DL).....$399, Upgrade $100

SB CCDSoft Software (purchase separately from SB)...................$349, Upgrade $99

FocusAide Software (purchase separately from FA)......................FREE trial version (downloadable from FocusAide trial link).
Note: Other supplier prices may vary from what is listed above. See individual links below for current pricing.
---
Visit the following links to access the above hardware & software products.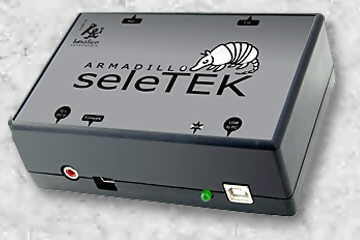 IMPORTANT NOTE: Simply plug the Seletek multi-device controller into the DB9 motor jack, pre-installed on TOADLOADER, ZEROTATOR and SPIDER stepper motors, and you're operational. This universal Seletek controller can also drive other stepper motors (i.e. Robo-Focus, Moonlite, Feather Touch, etc.). Two-device Armadillo controller pictured above left. Three-device Platypus controller pictured above right. This controller must be purchased separately from LA.
---
Purchasing Internationally?
For those of you who are skeptical about purchasing internationally, let me set your worries to rest. As you know, it has been a world wide economy for many years, so ordering locally, or halfway around the world, delivers the same fast and secure results. Your orders from Lunatic Astronomical (LA), located in Madrid, Spain, are shipped immediately by air and shipping is FREE* anywhere in the world. They have secure on-line ordering and accept all major credit cards, so your purchase is always protected. LA's customer service, before and after the sale, is as good as VSI.
To reiterate, VSI orders motors, direct from LA, and installs them on our products. Then, you purchase what you need to drive the motor from LA. Why doesn't VSI offer the (above pictured) Seletek controllers and cables? Because LA offers many options, from basic focus control to "whole observatory" controllers, so it is simply better that you order exactly what you need directly from LA. Also, VSI is not a dealer/middleman for other people's products. VSI only offers [major] products manufactured by VSI.
I also believe LA's many product offerings are superior to others in function and operation. LA offers a more compact hi-torque, gear-reduced stepper motor from ISL Products International, headquartered in New York. And their Seletek ASCOM compatable controllers have the latest USB computer interface connectivity (no clunky plug & pray ethernet). The Armadillo controller can operate two independent devices (focuser, filter wheel, rotator, etc.), and more powerful controllers are on the way (think Platypus, etc.). Seletek controllers can also operate other stepper motor brands (Robo-Focus, Moonlite, Feather Touch, etc.), so upgrading to LA's superior control interface is a no-brainer. Visit their web site for more information (link above). I firmly believe that LA has the best solutions to your local, remote, internet telescope and/or observatory control on the market. Thanks for your continued support over the decades! - PBVS
* $118/90 Euro minimum.
---

AUTOFOCUS for TOADLOADERS, etc.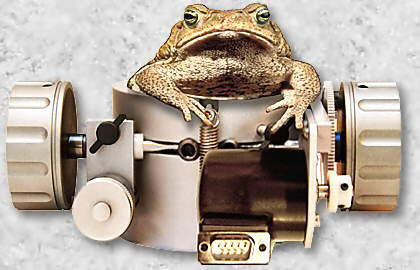 Autofocus Specifications & Features:
All Lunatic Astronomical systems offer temperature compensation

ISL 12vdc permanent magnet (4-phase unipolar) stepping motor, type 52

Stainless steel vibration dampening motor arm assembly

DB9 interface pre-installed on stepper motor (as pictured at right)

Spur gear reduction of 2.5:1 (motor shaft to Crayford drive shaft)

Spur gear reduction of 4:1 (motor shaft to 4" SS Zerotator gear)

Step angle = 0.1 degree per step (3600 steps per revolution)

*Step/travel movement (3" TOADS): 0.000045" (actual travel per step)

Maximum step rate (p/s): 200 steps/sec (at stepper motor shaft)

Output RPM at 200 steps/sec = 3.3 rpm (at stepper motor shaft)

Available torque at 200 steps/sec = 150 oz-in (at stepper motor shaft)

Gear train backlash: 0.001" or 12 steps (zero using software backlash compensation)

Winding resistance: 65 ohms

Rated Load (current): 180ma

Motor weight: 11.5 oz.

*No other autofocuser on the market has this extreme ratio of reduction.